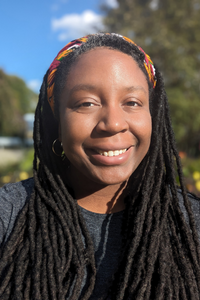 JENA' BRADLEY
Director of Community Partnerships, bi3
jena_bradley@bi3.org
(513) 569-6633
Jena' Bradley is Director of Community Partnerships for bi3, a funding initiative to transform health for all people in Greater Cincinnati.
Jena' carries out the day-to-day functions of grantmaking, including building trust-based partnerships with grantees and identifying opportunities for bi3 to invest in projects and collaborations that are aligned with bi3's strategic priorities. She plays a key role in strengthening bi3's trust-based philanthropy muscle and expanding our ability to listen to and engage with our community to co-design new solutions to address deep-seated community health issues.
Jena's purpose and work exist at the intersection of racial equity, philanthropy, storytelling and redistributing power. She is passionate about the community and has built relationships with over 500 grassroots nonprofits in the region.
Previously, Jena' served as Director of Community Impact at United Way of Greater Cincinnati where she was instrumental in the development of United Way's Black-Led Social Change Initiative, which fostered the development of Champions of Change and Black Empowerment Works. She holds a Bachelor of Arts in Political Science and Government and International Studies.