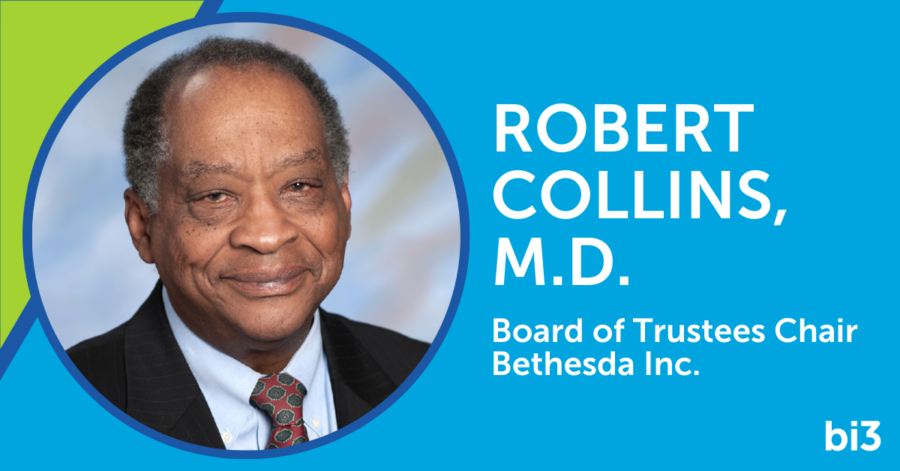 Cincinnati, OH (July 1, 2022) — Bethesda Inc., co-sponsor of TriHealth and founder of the philanthropic initiative bi3, announced today that its Board of Trustees elected Robert Collins, M.D., as Chair, succeeding Ellen Katz. Dr. Collins has been a Board member since 2018 and also serves on the TriHealth Board of Trustees.
Before retiring from clinical practice in 2017, Dr. Collins was a physician and medical administrator for 34 years. He most recently served as Vice President of Quality and Chief Medical Officer for TriHealth, overseeing Clinical Quality at Bethesda North Hospital, Good Samaritan Hospital, Hospice of Cincinnati, TriHealth Evendale Hospital, Bethesda Butler Hospital and two freestanding TriHealth emergency rooms.
An advocate for driving innovation in healthcare and improving community health outcomes, Dr. Collins has shared his experience as a member of the bi3 grants committee since the initiative was launched in 2010, serving as the Committee Chair since 2021. He has been instrumental in helping to guide bi3's $86 million in investments to transform health and healthcare in Greater Cincinnati.
"Dr. Collins is the right Chair at the right time as we work with our Board, strategic partner TriHealth and community-based organizations to advance health equity and address health disparities," Jill Miller, President & CEO of Bethesda Inc. and bi3, said. "Dr. Collins is the driving force we need to help achieve bi3's purpose of leading the way to a day when every person has a fair and just opportunity to achieve their best health."
Dr. Collins is a graduate of the University of Cincinnati College of Pharmacy and the University of Cincinnati College of Medicine. In 2017, the Cincinnati Business Courier recognized him with the Health Care Hero Life Achievement Award, and the Health Collaborative awarded him the Richard M. Smith MD Leadership in Quality Improvement Award. The Cincinnati Herald also saluted Dr. Collins for his extraordinary accomplishments in Medicine during its 2017 Men of Honor ceremony.