Bethesda Inc. launches bi3 — a philanthropic initiative to transform health
Bethesda Inc. today announced it has launched bi3, a philanthropic grantmaking initiative to transform health in Greater Cincinnati. bi3 sparks and scales innovative ideas which can result in better health for all people.
"We carefully considered how to best personify our grants initiative to express our unique role, the values we stand for and the vision we aspire to achieve," said Jill Miller, Bethesda Inc. president. "The letters 'bi' honor the Bethesda Inc. heritage. The number '3' recognizes that our initiative is built on three core elements – ideas, investments and innovation. bi3 reflects the fact this initiative is not a foundation or a hospital. We are a forward-looking, philanthropic investor with a willingness to take informed risks in order to transform the health of our community, and beyond."
As co-sponsor of TriHealth, the region's largest integrated health delivery system, Bethesda Inc. and its bi3 initiative are uniquely positioned to create and fund collaborations between TriHealth and community-based organizations. As a result, bi3 has the potential to scale programs more rapidly, differentiating bi3 from other health grantmakers.
bi3 will build upon Bethesda Inc.'s learnings and past successes, according to Jill Miller, President. bi3 will focus on four key funding priorities:
Maternal and infant health
Behavioral health
Palliative and hospice care
Health innovations that are enabled by new technologies or accelerate the integration of care
bi3 is particularly interested in efforts that achieve health equity by addressing the social determinants of health and health disparities for underserved populations. In the coming months, bi3 will remain flexible in its approach to funding to best respond to new opportunities and changes in the community. For more information, please click here.
---
bi3 announces $3.8 million in grants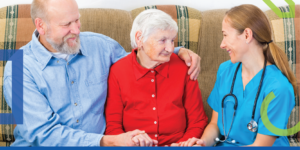 bi3 has announced $3.8 million in new funding to TriHealth and local nonprofit organizations. These projects will spark health innovation in palliative care, behavioral health and primary care integration, as well as new digital solutions. Awards include:
TriHealth in partnership with Hospice of Cincinnati: A $3.35 million grant from bi3 over three years will enable TriHealth and Hospice of Cincinnati to launch the first health system-sponsored community-based palliative care program in the region.
TriHealth Behavioral Health: Sparked by a $50,000 bi3 grant, the TriHealth Behavioral Health team will deploy a Substance Use Disorder Program that provides clinical training and patient education on comprehensive treatment options.
St. Vincent de Paul Cincinnati: A $100,000 bi3 grant will enable St. Vincent DePaul Cincinnati to complete a consult agreement with Good Samaritan Free Health Center in Price Hill. The new healthcare model offers a breakthrough in care for patients without insurance.
Center for Addiction Treatment (CAT): This $100,000 grant provides seed money to start a primary care clinic and medical resident training program specifically designed to treat patients suffering from addiction.
Spry Labs at Cintrifuse: Spry Labs, in collaboration with TriHealth, will create a community benefit tracker to allow health system employees a quick and intuitive way to track time and activities delivering community benefits as the result of a $45,000 grant.
Since 2010, Bethesda Inc. has invested more than $33 million in innovative ideas to transform health and health care, ranking it as one of Ohio's largest health-focused funders, according to statistics from Grantmakers in Health. Bethesda Inc.'s prior grantmaking work will now be incorporated into the bi3 initiative.
For more information on each of these and all current grants, please visit www.bi3.org.
---