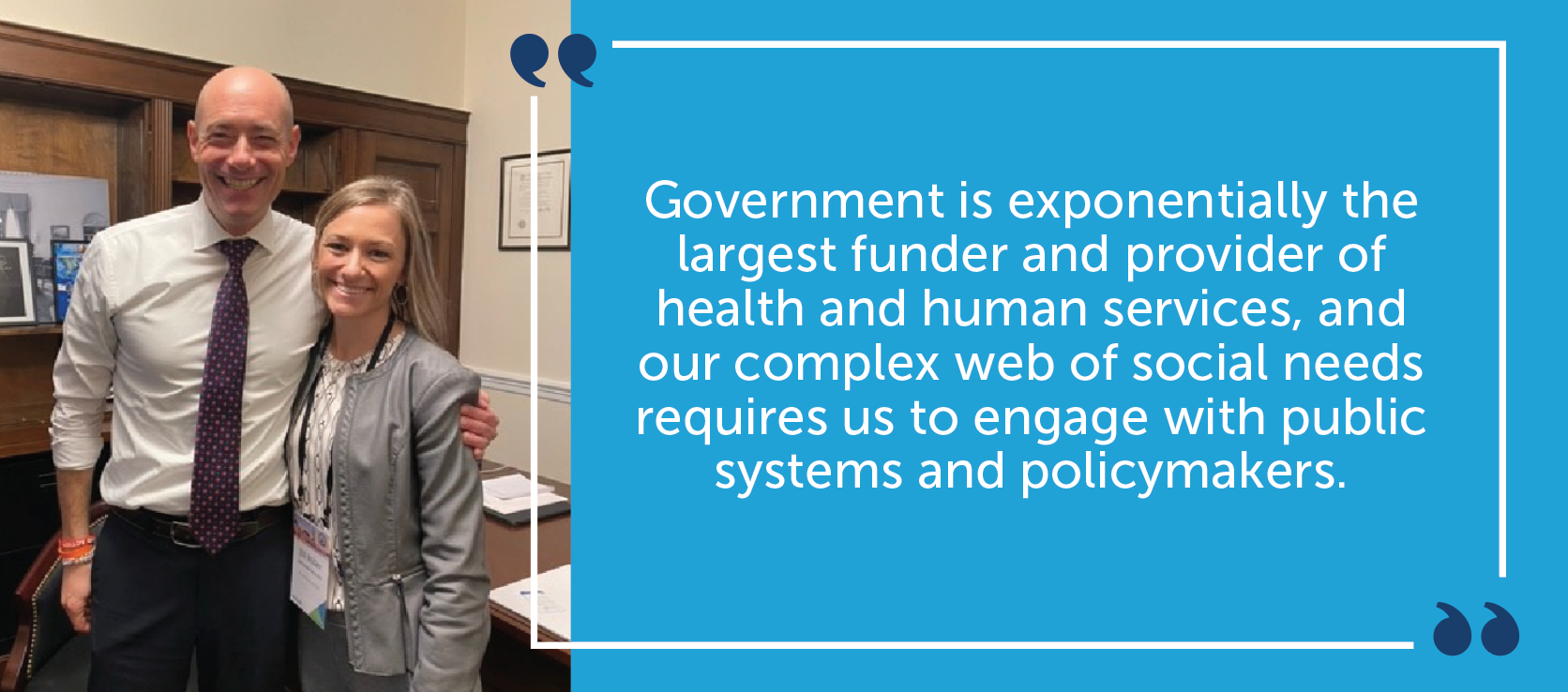 Perspective by Jill Miller
President & CEO, bi3
Imagine you are presented with two options:
Option 1: 
Invest $5 million to fuel a new model of care that saves the lives of 200 babies over 10 years
Option 2: 
Invest $1 million to advocate for policy change that will improve the health of 21,000 babies per year
So, do you choose program or policy?
At bi3, we choose both. As President & CEO, I worked with my Board of Trustees to build this blended approach, as we believe we need to push both levers to improve health outcomes.
We began with an urgent need
Government is exponentially the largest funder and provider of health and human services, and our complex web of social needs requires us to engage with public systems and policymakers.
bi3 awards multi-million, multi-year grants ($89.8 million over the past decade) to fuel new care models and programs that measurably improve health, save lives and reduce the cost of care. However, as a multi-year grant ends, there is often a significant gap in funding to scale and sustain the new model/program.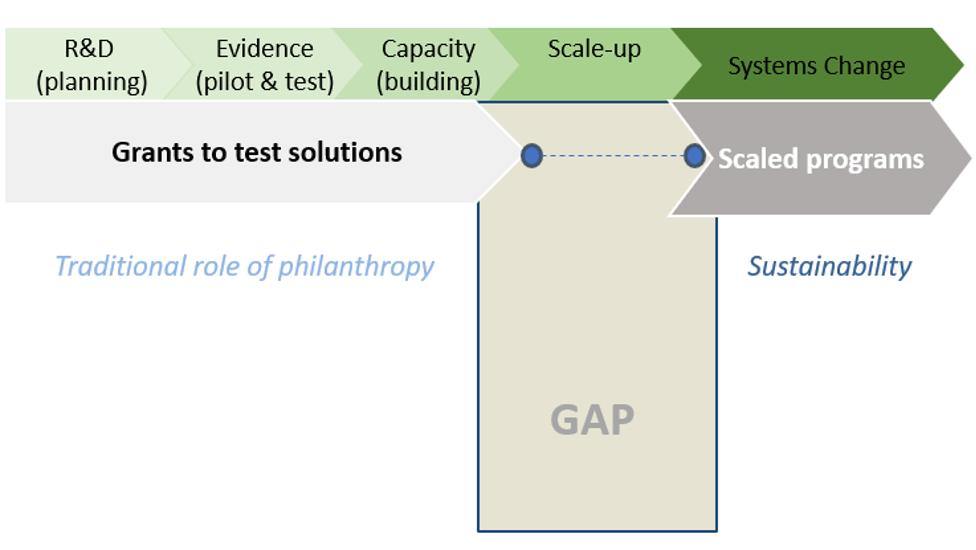 For example, bi3 funded a new mom-centered care model that contributed to a 2021 record-low infant mortality rate in Hamilton County (the third largest county in Ohio). As a result, 200 babies are alive today and their families spared from the traumatic loss of an infant.
Proven results led to public dollars from the state to expand the model locally and beyond. However, through our trusted relationships with our partners—specifically obstetricians and community health workers—we learned that their ability to improve maternal and infant health was limited by the fact that too many women were losing their Medicaid coverage 60 days after they delivered their babies.
As a mother of two, I cannot imagine being cut off from my doctor 60 days after delivering. This barrier severely limits an obstetrician's ability to address postpartum depression and other complications that can lead to pregnancy-related death in the first year after delivery. We needed a solution.
We built knowledge and understanding
Given our lack of knowledge and experience in the advocacy space, bi3 hired a consultant to educate our organization about the various ways in which funders can engage in advocacy. Since the average person equates advocacy with lobbying, we emphasized the fact that direct lobbying is only one of many advocacy activities. A funder can actually move back and forth on this "Continuum of Roles":

We developed an advocacy framework
Fear and risk can get in the way of engaging in policy advocacy. Our consultant worked with us to develop an advocacy framework that outlines our range of advocacy activities (how we advocate) and our policy agenda (what we will advocate for). We also created a public policy assessment process to help us clarify our level of involvement on an issue based on priority, influence and risk.
Policies ranked as high or medium risk are either eliminated or have an individual plan that mitigates the risk by outlining the specific advocacy strategies that will be utilized. Through this education process, our Board of Trustees realized that there will always be a level of risk with advocacy, but there is also a risk in doing nothing—like women dying from pregnancy-related complications.
We set expectations for impact
The impact may be harder to see and measure at first, but changes in public policy are often a precursor to the meaningful, long-term success vital to tackling larger community challenges. Supporting advocacy is, quite simply, one of the most powerful tools available to foundations for creating change.

– Bolder Advocacy
Philanthropy readily supports programs. Programs are tangible, and impact can be regularly measured by outputs (e.g., the number of people helped each year). On the other hand, policy change can take years and even decades. Advocacy outcomes are harder to measure and depend on the activity level and audience.
Our Board found this "Advocacy Strategy Framework" chart helpful as we discussed how to measure interim and long-term success.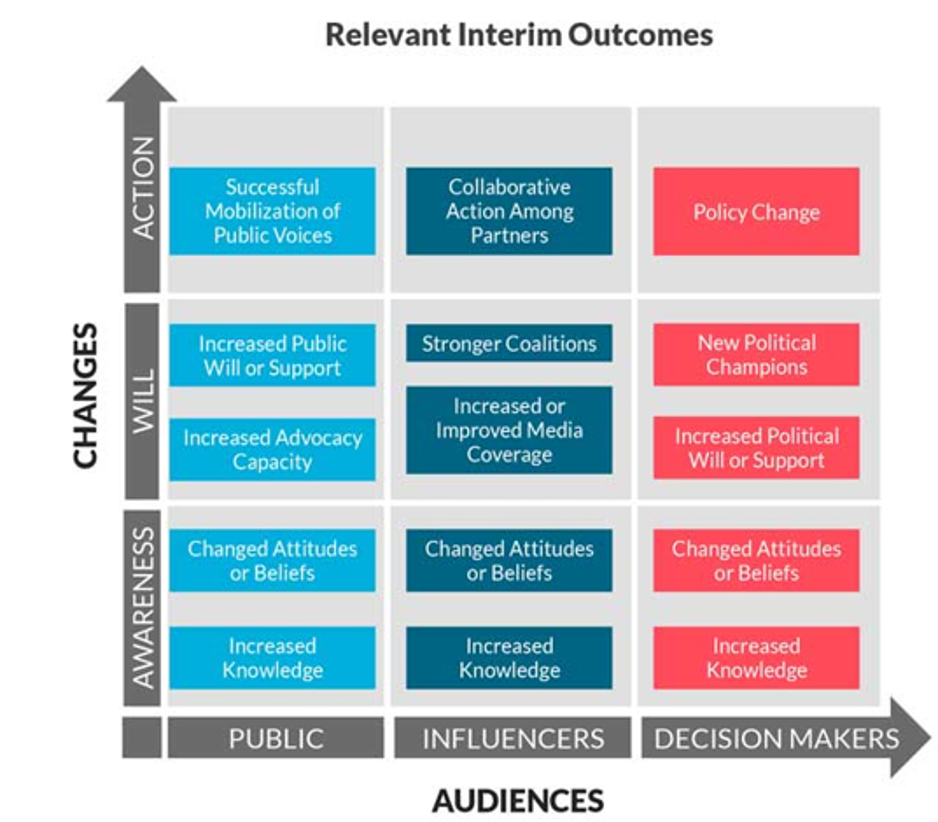 We began by partnering to advocate for a specific change
With our strong commitment to improving maternal and infant health, bi3 chose to start by advocating for the extension of Ohio Medicaid coverage from 60 days to one year postpartum. We partnered with Groundwork Ohio, a nonpartisan public-policy research and advocacy organization.
bi3 provided the seed funding to establish Groundwork Ohio's Center for Maternal and Young Child Health, with a portion of the funding allocated to advocate for the extension of Medicaid coverage. After 18 months of advocacy by Groundwork Ohio and other passionate advocates, Medicaid extended coverage for Ohio moms in April 2022. The Center of Medicare and Medicaid Services estimates this coverage will help 21,000 new moms annually. You can read more about this partnership in our new bi3 Learning Series Paper, Leveraging Advocacy to Transform Health.
The reach of programs vs. policy change bears repeating: Through the new mom-centered care model, our community-wide efforts saved the lives of 200 babies over the last decade, while our advocacy partnership with Groundwork Ohio to expand Medicaid coverage will impact the lives of 21,000 moms and their babies each year.
To achieve the outcomes we seek, we must fuel programs, partnerships and policy change.
We continue to build our capacity and influence
There are pros and cons to hitting a home run the first time you step up to the plate. While I continue to remind our Board that policy wins usually take years to achieve, the relatively quick win did create an appetite for bi3 to allocate more resources to policy advocacy.
We directly lobbied for the passing of Hamilton County's Mental Health Levy this past November and added two former Ohio State Representatives to our Board of Trustees to help guide our policy work. We also recently hired a part-time consultant to serve on our bi3 team to increase our capacity for policy advocacy.
Today, through our trust-based approach, we continue to listen to our funded partners as they identify barriers and challenges to improving, scaling and/or sustaining new solutions to old problems. bi3 then uses our voice to communicate what we learn from our funded partners to the public and policymakers.
Remember, when presented with two options, BOTH is sometimes the best answer.
How will you invest?