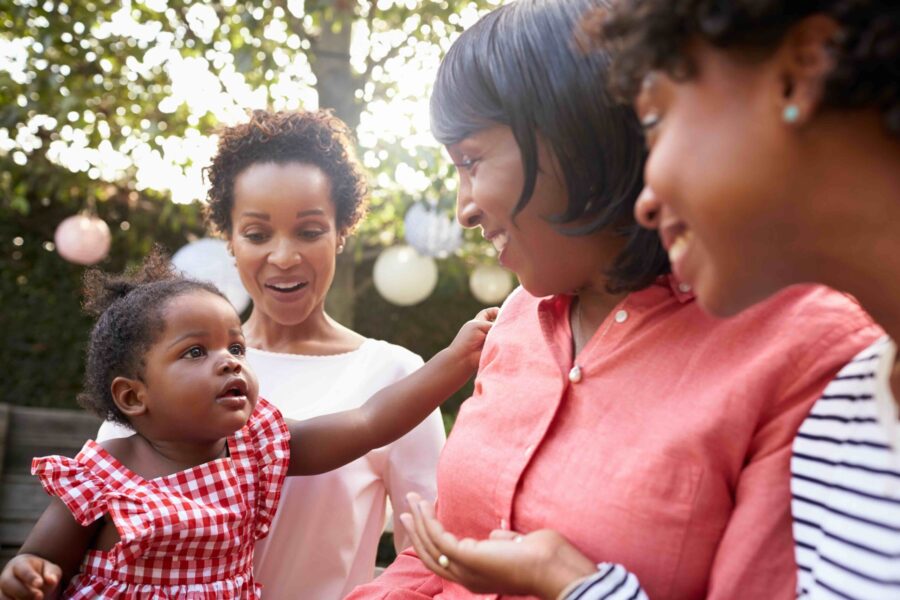 Funding will improve birth outcomes, address community health disparities
bi3, a funding initiative to transform health for all people in Greater Cincinnati announced today it is awarding $6.5 million in grants to four Black women-led local nonprofit organizations to accelerate health equity.  Funding will strengthen efforts to reduce infant mortality, improve birth outcomes for Black families and address social barriers to better health.
"bi3 is leading the way to a day when every person has a fair and just opportunity to achieve their best health," said Jill Miller, President and CEO of bi3. "Funders have historically underinvested in Black-led organizations, creating and maintaining gaps in racial assets which negatively impact the community's ability to achieve health equity. bi3 has intentionally increased our investment in Black-led organizations to build solutions with communities to improve health outcomes."
bi3 grants include:
 $3.3 million to Cradle Cincinnati: Black babies are dying at three times the rate of White babies in our community.  The bi3 grant builds upon its existing $4.9 million investment in Cradle Cincinnati to reduce infant mortality and ensure equitable birth outcomes for all.  This three-year grant will support more than 1,500 Black women of childbearing age through the supportive community of Queens Village, expanding doula services and championing policies to support pregnant people and families.
 $1.5 million to Urban League of Greater Southwestern Ohio: There is a strong correlation between health and wealth.  Ohioans of color are more likely to encounter barriers to employment and wage growth, resulting in incomes for Black and Hispanic/Latino Ohioans that are less than two-thirds the incomes of White Ohioans.  The three-year bi3 grant will expand efforts at Urban League to partner with Black-led community organizations to advance employment opportunities, financial stability,
social equality, and leadership. Programs will include workforce training for livable wage jobs, expanding access to health insurance, mental healthcare and diverse providers, and activation of a Black caregiver advocate network.
$1.5 million to YWCA Greater Cincinnati: Ohio Department of Health data shows Black and Brown women in Ohio are statistically more likely to endure health disparities. Funding will accelerate YWCA's position as a leader in a regional initiative to close gaps in health equity by developing advocacy goals and objectives with community stakeholders.  With bi3's support, YWCA will launch a path to system-level change for the health and safety of women and children in Southwest Ohio. The three-year grant will sustain YWCA trauma-informed domestic violence shelters and housing programs. It will also expand racial equity training and establish partnerships to advocate for policy change.
$200,000 to Me & She Doula Services: Doulas improve birth outcomes, especially for Women of Color.  bi3 will support expanded access to doulas through a three-year grant. Me & She Doula will offer free and reduced-cost services and classes, offering pregnancy, postpartum and parenting support groups, addressing the concerns of Black women and connecting them with the resources they need. The goal is to improve the health outcomes of Black moms and babies.
In addition to the grants above, bi3 awarded an additional $70,000 to pilot youth mental health programming and improve the child protection workforce.
$35,000 to 1N5: The youth mental health crisis continues to impact a growing number of families in our region, with suicide the second leading cause of death for young people. The bi3 grant will fuel a series of mental health and wellness days at Withrow University High School, helping reduce stigma and make students aware of resources available to them. The activities and self-care practices introduced on these days will be reinforced and embedded into the ongoing culture of the school throughout the year. Following the pilot, 1N5 hopes to scale this program into additional schools in Greater Cincinnati.
$35,000 to ProKids: The grant from bi3 will support ProKids efforts to work collaboratively with Hamilton County Jobs and Family Services to improve the child protection system workforce.  Workforce challenges lead to delayed response times and access to therapeutic services for our most vulnerable children.