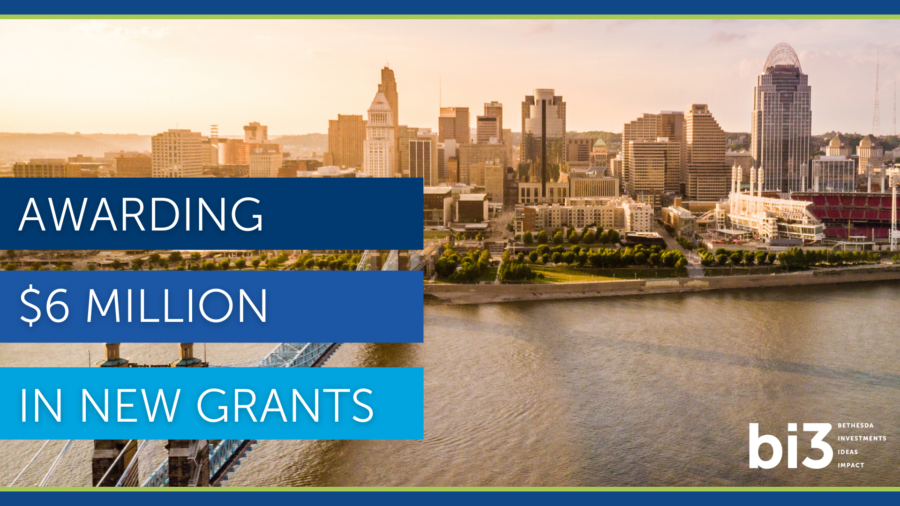 Funding will improve access, increase capacity and build upon TriHealth health equity efforts
Grantmaker in Health bi3 announced today it is awarding $6 million in grants to its strategic partner TriHealth and five local nonprofit organizations to advance patients' health status, accelerate birth equity and improve youth mental health. Funding to TriHealth will support the creation of a Center for Health Equity, while grants to community organizations will expand youth mental health resources and grow and support local doula services, a proven way to help improve maternal birth outcomes, especially for People of Color.
"bi3 is leading the way to a time when every person has a fair and just opportunity to achieve their best health," said Jill Miller, President & CEO of bi3. "bi3 looks forward to collaborating with TriHealth to reduce health disparities and working with community organizations to advance our priorities of birth equity and youth mental health.
bi3 grants include:
Fueling health equity and innovation at TriHealth
$4.3 million to TriHealth: The bi3 grant will support TriHealth in launching a widescale, strategic approach to health equity, starting with the launch of a new Center for Health Equity. The Center consists of a TriHealth team that will deploy targeted initiatives to address community-wide social determinants of health and health status while focusing on health and process of care disparities within its patient population. This new grant builds on the $4.5 million grant bi3 awarded in 2022.   bi3 has awarded more than $18 million to accelerate health equity at TriHealth, including investments in the School to Work program, the TriHealth OB/Gyn Center and Hospice of Cincinnati.
Supporting birth equity
Black women suffer far worse maternal health outcomes than their White counterparts[1]. The maternal mortality rate for Black women is nearly three times higher than for White women. Research also shows one pathway to better outcomes is to invest in doulas who serve as strong advocates and provide emotional and physical support during pregnancy, childbirth and postpartum.
$200,000 to NyNi, Inc: A three-year grant to increase the number of trained and certified community-based Black birth doulas in Butler and Hamilton Counties by providing training to approximately 100 Black birth doulas. The training would include certification and business development, which would create a pathway for Medicaid reimbursement and involve mentoring other doulas.
$200,000 to Blaq Birth Circle: Funding will support efforts to build a professional support network for Black birth workers, including doulas. The three-year grant will foster continuing professional birth education while building the community of Black birth workers, ultimately improving the quality of care provided to Black birthing families.
$30,000 to The Health Care Connection: The one-year grant will support THCC's Centering Pregnancy program, providing convenient and timely access to critical diagnostic services for populations that experience disparities in maternal and infant health outcomes, including Black and Hispanic/Latino patients.
Improving youth mental health
The American Academy of Pediatrics has declared our children's mental health a national emergency. One in six young people ages 6 to 17 experience a mental health disorder annually, and the suicide rate of 5- to 11-year-olds is increasing. Regionally, parents and guardians seeking treatment for their child sometimes face months of wait times before they can see a mental healthcare provider.
$1.3 million Best Point Behavioral Health: Best Point, one of the region's largest dedicated youth behavioral health organizations, has more than 1,300 children waiting for treatment. The one-year bi3 grant will enable Best Point to increase its workforce and crisis services and better serve families in need by focusing on employee support and providing high-quality care. Funding will also support organizational sustainability.
$50,000 to Consortium for Resilient Children: The one-year grant will position the longstanding local Consortium of ten early childhood and mental health organizations to build capacity through pilot training and development of early childhood professionals.
Since 2010, bi3 has awarded more than $95 million to TriHealth and community-based organizations to fuel healthcare innovation and health equity.
[1] https://www.cdc.gov/nchs/data/hestat/maternal-mortality/2020/maternal-mortality-rates-2020.htm