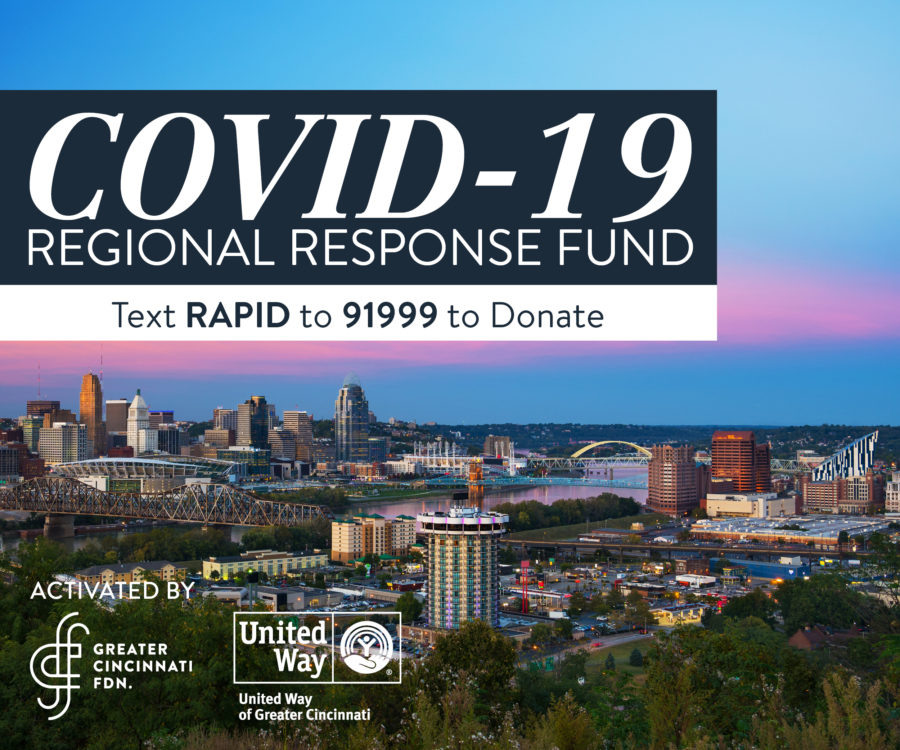 CINCINNATI (May 9, 2020) – The COVID-19 Regional Response Fund is celebrating $7.2 million in impact thanks to the generosity of the Greater Cincinnati community.
So far, 200 diverse nonprofits throughout the Greater Cincinnati region have received funds to provide support to families and individuals suffering from the effects of the coronavirus pandemic.
The fund is focused on deploying flexible resources to community-based organizations that are supporting families and neighborhoods most negatively affected by the coronavirus outbreak. Greater Cincinnati Foundation and United Way of Greater Cincinnati teamed up to activate the fund.
The fund was able to distribute money quickly due to early contributions from funding partners: bi3; Charles H. Dater Foundation; Deaconess Associations Foundation; Fifth Third Foundation; First Financial Bank; The Kroger Co. Zero Hunger | Zero Waste Foundation; Procter & Gamble; Jacob G. Schmidlapp Trusts, Fifth Third Bank, Trustee; Scripps Howard Foundation; and Western & Southern Financial Group.
To read stories of the impact of the fund over the past 7 weeks, visit www.covid19regionalfund.org/impact.

#StrongerTogether
---
About Greater Cincinnati Foundation 
As the region's leading community foundation, Greater Cincinnati Foundation connects people with purpose in an eight-county region in Ohio, Kentucky and Indiana. GCF is leading the charge toward a more vibrant Greater Cincinnati for everyone — now, and for generations to come. 
Media Contact:
Jaclyn Sablosky
Greater Cincinnati Foundation
(513) 295-7399
About United Way of Greater Cincinnati 
United Way of Greater Cincinnati leads programs and partnerships to help local families move on a path out of poverty with the bold, long-term vision of breaking the cycle of poverty across the region. United Way changes systems and policies across government, corporate and community organizations so they work better for families in poverty. United Way improves lives in 10 counties across Ohio, Kentucky and Indiana. It is the largest organized community effort to help families move out of poverty for good. Together, with 90,000 supporters, we unite communities to change lives. Additional information about the programs, initiatives, services, and community impact, is available at UWGC.org #LiveUnited 
Media Contact:
Jennifer Riegert
513-309-2920