---
bi3 UPDATES
---
Funding opportunity for local Black-led organizations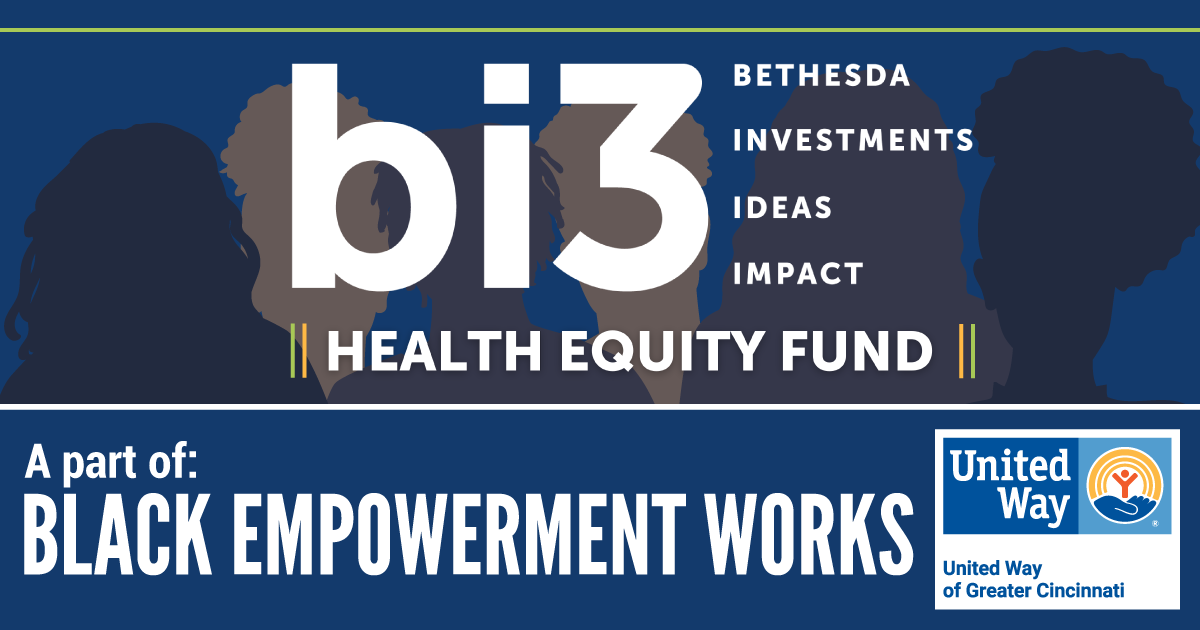 The bi3 Health Equity Fund is seeking applications for funding from Black-led nonprofit organizations working to improve health outcomes and build health equity. The Fund will prioritize organizations accelerating birth equity and enhancing youth mental health.
In partnership with the United Way of Greater Cincinnati and Black Empowerment Works, bi3 launched the bi3 Health Equity Fund in 2022 with a three-year $1 million grant to drive equitable health outcomes through Black-led grantees.
Grant applications open May 1 and close June 28. Applications to serve as a Community Reviewer close on June 5.
State legislators join bi3 to discuss policy priorities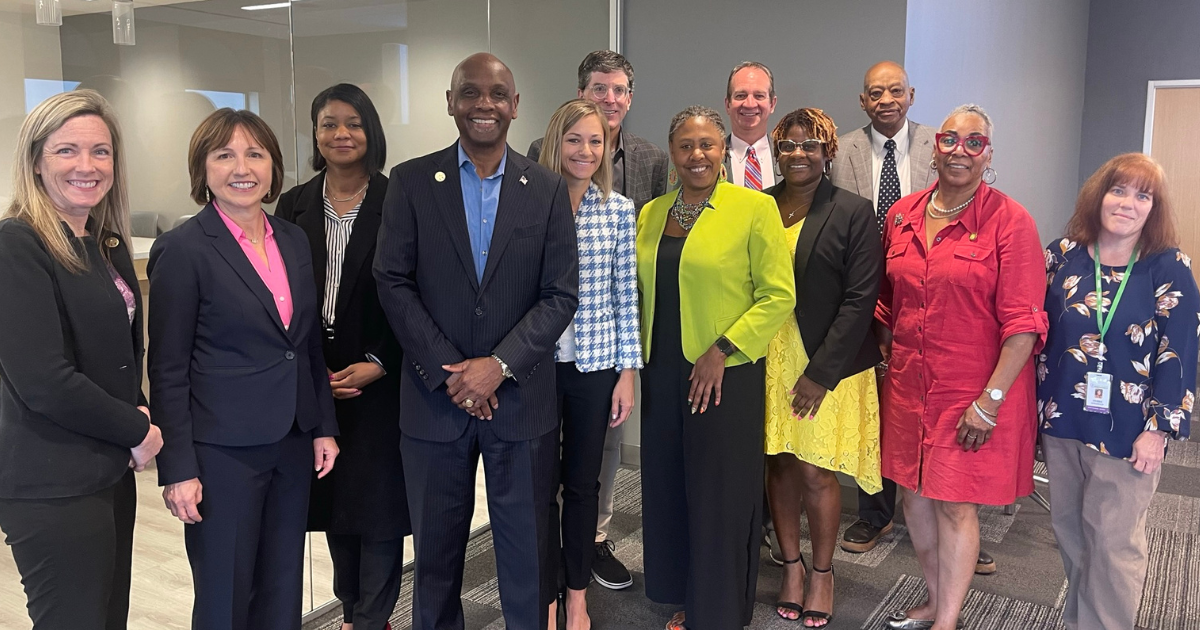 bi3 deploys a multi-dimensional approach to create systemic change in long-term community health issues. Because government is a critical decision-maker and a major funder of healthcare and related human services, we are increasingly using our relationships and influence to communicate what we learn from our investments and partnerships to the public sector.
Last week, we were joined by Ohio Senator Ingram and Ohio Representatives Baker and Thomas to hear from a few of our grantee partners and learn more about bi3 and our policy priorities.
bi3 sponsors The Future of Health Care panel discussion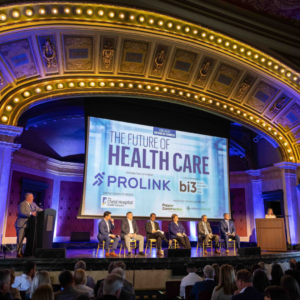 bi3 was honored to sponsor the Cincinnati Business Courier's The Future of Health Care event at Memorial Hall in Over-the-Rhine earlier this month. Leaders of all six of Greater Cincinnati's top healthcare systems shared insights about key challenges, including the mental health crisis, workforce shortages and the pandemic's lasting effects, as well as innovations on the horizon.
bi3's Jill Miller kicked off the event, shedding light on the health inequities and disparities that continue to face our community.
2023 Think Tank on Equity & Inclusion invites business community to advance racial equity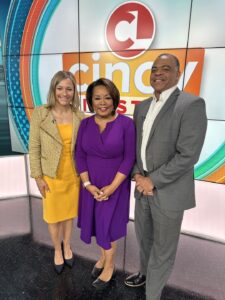 This week, the Abercrumbie Group is hosting the 2023 Think Tank on Equity & Inclusion. Sponsored by bi3 and TriHealth, local business leaders and community members will engage in discussions to advance health and wealth equity for Black and Brown communities.
On the agenda:
Jill Miller will lead a discussion on how local organizations are implementing bold strategies to address social determinants that influence healthy equity
Darrin Redus, CEO of the Minority Business Accelerator, will lead a panel on scaling minority-owned businesses
Additional panelists will discuss implementing other unique equity strategies
Jill will also present on social determinants and health equity during a private meeting with local CEOs, held in conjunction with the Think Tank.
Jill and Darrin joined Michelle Hopkins on Cincy Lifestyle to discuss the upcoming event.
Grantee Spotlight: Kristin Burgoyne, Executive Director of RefugeeConnect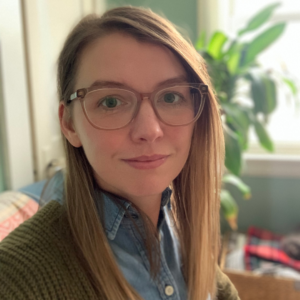 At bi3, we are fortunate to work with partners committed to improving health outcomes in our community. RefugeeConnect is a local nonprofit that provides resources and educational programs for refugees and immigrants new to the U.S.
We asked Executive Director Kristin Burgoyne, MSSW, about what drives her passion for helping these community members navigate their new lives and barriers to health.
bi3 attends Philanthropy at the Statehouse to strengthen relationships with policymakers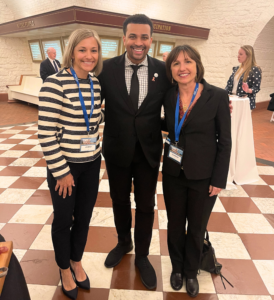 bi3 joined its philanthropic peers in Columbus this week to meet one-on-one with state legislators and their staff to build relationships and discuss pressing community issues. We took the opportunity to explain why philanthropy is engaged in public policy, what we bring to the table and how we can accomplish more together. In addition, we shared more about our community's needs, concerns and victories. We had the honor of hearing from Justice Melody Stewart, the first African-American woman elected to Ohio's highest court.
The day wrapped with a bi3-sponsored Legislative Reception, which provided additional opportunities to forge connections with legislators and share about the work happening in our communities.
---
SAVE THE DATE
---
Join our partners at these upcoming local events
19th Annual Health Expo at Washington Park
The Center for Closing the Health Gap is hosting the 19th Annual Health Expo at Washington Park on April 29! This year's event will feature free health screenings, fitness, cooking demonstrations, and entertainment! Learn more.
8th Annual Donald and Marian Spencer Spirit of America Awards Dinner
On May 9, the Cincinnatus Association will present the 8th Annual Donald and Marian Spencer Spirit of America Awards Dinner, honoring five local nonprofits and businesses promoting diversity and inclusion. Two of the five honorees are bi3 partners: Talbert House and Women Helping Women. Get tickets here.
---
For more updates on the work of bi3 and our funded partners, be sure to follow us on social media!
[/vc_column_text][/vc_column][/vc_row]