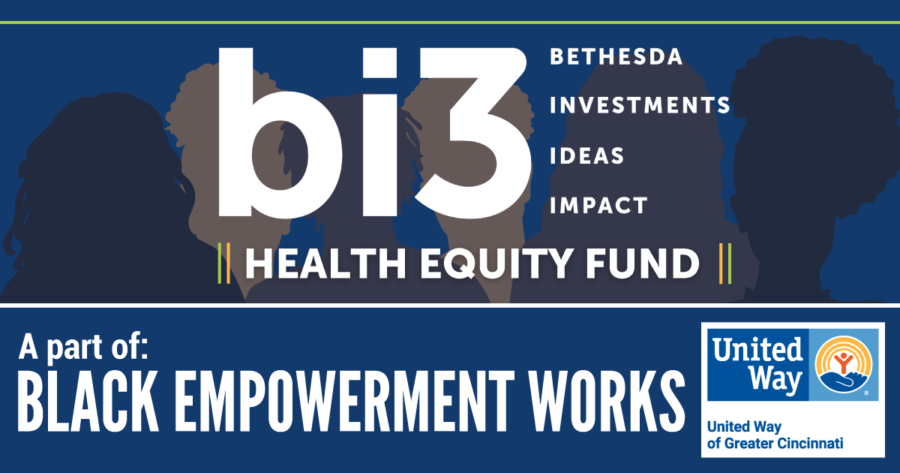 $1.6 million in funding will support grassroots, Black-led work in Greater Cincinnati  
Application window opens May 1
The application deadline has passed. Please view the RFP information below for reference only.
The Black Empowerment Works program, led by United Way of Greater Cincinnati in partnership with bi3 and P&G Always brand, is seeking applicants for its fourth round of funding. Since its inception in 2020, the program has invested over $3 million into 100 Black-led organizations and has engaged 91 community members to make those investment decisions. This year, the program is positioned to make its largest investment yet—$1.6 million.
Black Empowerment Works promotes Black self-determination, social mobility and economic prosperity by providing resources and funding to community-based, Black-led work. The program was formed because there is an over-representation of Black families experiencing poverty in the Greater Cincinnati region and an underinvestment in the work of Black leaders to address it.
"United Way is committed to tackling deep-rooted problems that hold families back and building solutions that ensure economic well-being for all," said Moira Weir, President and CEO of United Way of Greater Cincinnati.
"This work is complex and will take all of us. Black Empowerment Works is one way we are amplifying the expertise that exists in our community."
Black Empowerment Works differs from other equity-focused grant programs in important ways: Funds are not exclusive to nonprofit organizations, and community members make the investment decisions.
"By engaging community members as decision-makers, by shifting power, a different lens is brought to the work," said Jena Bradley, director of this initiative at United Way. "And by investing in community-oriented work, regardless of structure, we are able to tap into a broader diversity of leaders and ideas."
In addition to investing in a broad range of social impact causes such as education, economic mobility and community coalition-building, Black Empowerment Works also leverages specialized funds from two local strategic partners.
The P&G Always Confidence Fund will invest in work that tackles societal barriers on period stigma and gender inequality; work that supports confidence-building in puberty-aged people with periods; and work that provides access to period products and education.
The bi3 Health Equity Fund will invest in ideas to impact birth equity and youth mental health. Birth equity includes improving the birth experience and reducing health disparities in maternal and infant health.
"bi3 recognizes that Black-led organizations are closest to health inequities and best positioned to improve the health of People of Color," said Jill Miller, President and CEO of bi3. "By developing trusted relationships with community members, we can lead the way to a day when every person has a fair and just opportunity to be as healthy as possible; when a person's health can no longer be predicted by race, ethnicity, (dis)ability or ZIP code."
In partnership with United Way and Black Empowerment Works, bi3 launched the bi3 Health Equity Fund in 2022 with a three-year $1 million grant to drive equitable health outcomes through Black-led grantees.
Applications to serve as a community volunteer reviewer close on June 5. Grant applications close June 28.
About United Way
With its dedicated donors, staff and partners, United Way of Greater Cincinnati brings new voices and solutions to decades-old challenges so more families in our community thrive.
As the community catalyst, UWGC drives change through investments, influence and filling gaps in services to create lasting change for families today and for future generations. UWGC does this by focusing on six investment portfolios: Housing First, NextGen Success, Equitable Economic Mobility, Improved Prevention/Stronger Communities, Ready Kids/Resilient Families and Responding to Community Needs.
Learn more about UWGC's work underway in nine counties in Ohio, Kentucky and Indiana and how you can be part of our collective community impact at UWGC.org. #LiveUnited
About bi3
bi3 transforms health for all people in Greater Cincinnati by fueling innovation and health equity through grantmaking. bi3 leverages its strategic partnership with TriHealth and partners with community-based organizations to spark and scale new solutions to deep-seated community health issues, envisioning a day when all people in Greater Cincinnati achieve their best health. Learn more at www.bi3.org.