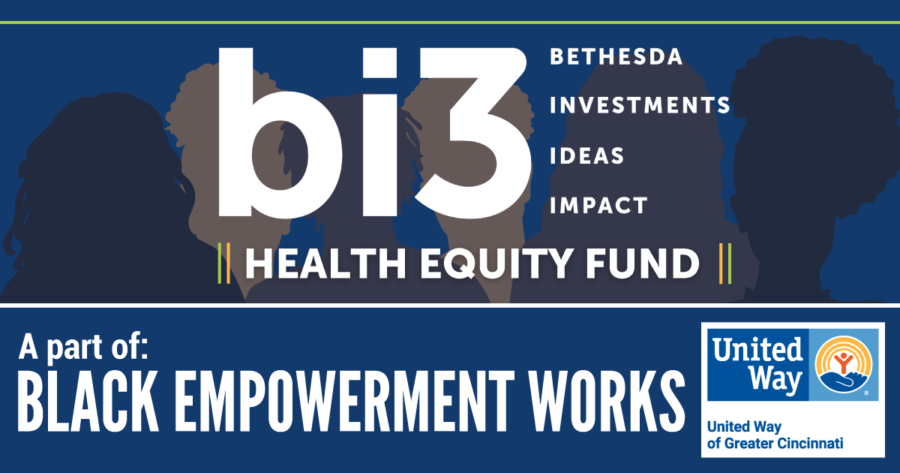 In partnership with the United Way and Black Empowerment Works, bi3 launched the bi3 Health Equity Fund in 2022 with a three-year $1,000,000 grant to drive equitable health outcomes through Black-led grantees.
The Black Empowerment Works program, led by United Way, invests in Black-led efforts to build solutions and align systems to help families in the community thrive.
In its second year, the bi3 Healthy Equity Fund awarded funding to nine Black-led organizations in the 2023-2024 class to accelerate birth equity and improve youth mental health, with grants ranging from $30,000 to $40,000.
Breastfeeding Outreach for Our Beautiful Sisters, BOOBS ($30,000) – Continue to work to eliminate health disparities for Black women and babies through education, coaching and supports to lengthen breastfeeding duration.
Center For Healing the Hurt ($40,000) − Supply free, trauma-based therapy for children and teens and educate parents and children on ways to decrease the harmful effects of post-traumatic stress on the mind and body.
Motherhood and Mental Health ($40,000) – Address birth equity by supplying holistic resources, education, advocacy, and access to quality, culturally sensitive and competent healthcare for Black mothers.
Our Sprouting Minds ($40,000) − Deliver immersive, trauma­ informed and strengths­ based therapeutic horticulture programs for at-risk youth, promoting positive mental health and resilience.
Our Tribe ($40,000) − Provide programming and events that connect, empower, educate and advocate for the Black Autism Community in Cincinnati, providing access to mental health support and services through an autism doula program.
Preston Brown Foundation Inc. ($40,000) − Offer Youth Mental Health First Aid training, build healthy coping mechanisms, and address mental health stigma among youth through arts-based therapy, self-care activities, and field trips.
New Concepts Healthcare ($40,000) − Provide psychiatric service to Black youth and adults in Greater Cincinnati, including psychotherapy, art therapy, garden therapy, and medication management.
Rosemary's Babies ($40,000) − Partner with Beech Acres Parenting Center to provide economic self-sufficiency, physical and mental health, and material support to pregnant and parenting teens aged 13-21.
The Mothership Institute ($30,000) – Assist Black women in transforming health crises into healthier families through nutrition, exercise and girls' rites of passage programs.
The full list of recipients and more information about the program can be found at uwgc.org/bew.