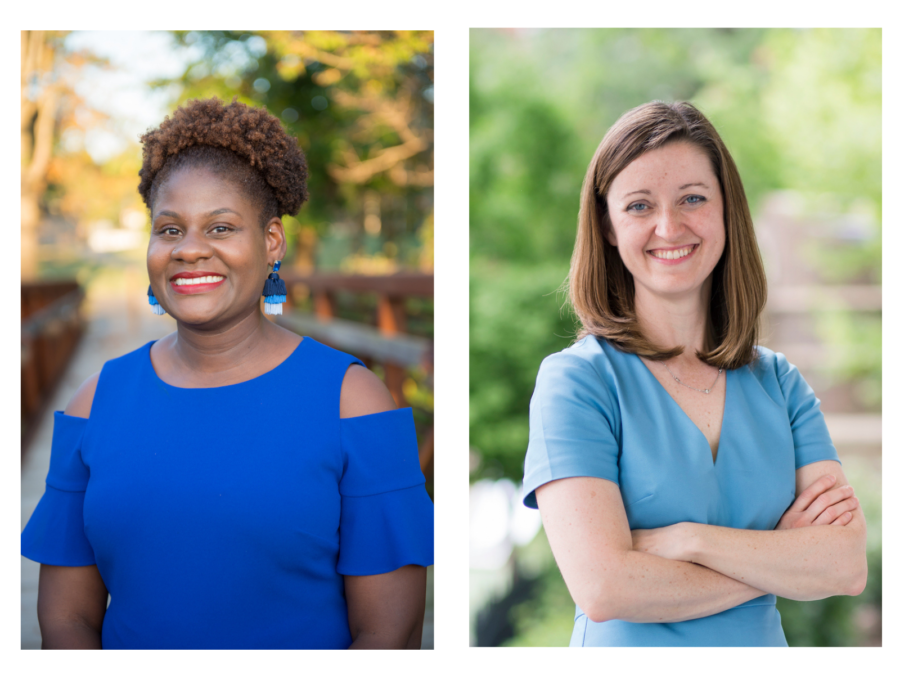 bi3 Names Kiana Trabue as Vice President of Strategic Partnerships
Promotes Jennifer Zimmerman to Vice President of Evaluation and Impact 
bi3, Bethesda Inc.'s grants initiative to transform health, announced today Kiana Trabue has been named Vice President of Strategic Partnerships. In this role, Trabue will build internal and external partnerships and co-design innovative initiatives to solve Greater Cincinnati's deep-seated health issues. bi3 also announced Jennifer Zimmerman has been promoted to Vice President of Evaluation and Impact.
Since 2010, bi3 has awarded $53.5 million in grants to TriHealth and community-based organizations to fund innovative ideas to transform health and healthcare. Funding fuels long-term systems and culture change and addresses racial and health disparities.
Trabue Working Closely with Grantees
Trabue will work with grantee organizations through bi3's Trust-Based Philanthropy approach, which shifts the power dynamic between funder and grantee to a deep collaboration to achieve greater impact.

"As bi3 continues to grow as a health convener, advocate, ally and thought partner, our team needs to enhance its capability as well," said Jill Miller, President and CEO of Bethesda Inc. "Kiana's experience and dedication make her the ideal person to cultivate partnerships to solve long-standing health problems and make our community one of the healthiest in the country."
Trabue most recently served as Executive Director for The Health Collaborative, where she led Greater Cincinnati and Northern Kentucky's population health agenda, Gen-H. She provided leadership, strategic direction and oversight for Gen-H, which activates data-driven solutions to reduce the impact of chronic disease and build an equitable health system.
When the pandemic hit in 2020, Trabue quickly pivoted her focus to help lead the region's COVID-19 response efforts. Specifically, she worked to ensure equitable response strategies through community-based organizations and utilized data to identify neighborhoods and populations with disproportionate health risks for COVID-19 testing.
Trabue has a Master of Public Health from Wright State University's Boonshoft School of Medicine and graduated from the Center for Clinical and Translation Science and Training's Community Leaders Institute and the Urban League's Urban Leader's Institute. She was recognized by the YWCA of Greater Cincinnati as a 2017 Rising Star and received Lead Tribune Media Group's 2017 Healthcare Leadership Award. In 2018, Kiana was honored as one of Cincinnati's Business Courier's Forty Under 40 and as a Distinguished Alumni by Princeton City School. She currently serves as Vice Mayor of the Village of Woodlawn and Treasurer of Princeton Community Middle School PTA. She is a devoted mother to two children.
Zimmerman Focusing on Strategy and Impact
bi3 also announced the promotion of Jennifer Zimmerman to Vice President of Evaluation and Impact. Since joining bi3 as Director of Grants and Evaluation, Zimmerman has been responsible for developing, managing, and evaluating its portfolio of multi-year grants and initiatives. The portfolio currently includes 62 active grants.
In her new role, Zimmerman will focus on grant strategy, impact, and analysis, as well as landscape assessment of bi3's funding areas. She also will identify opportunities to scale and sustain initiatives and translate data to inform policy decisions.  This includes implementing evaluation strategies, data collection methods, reporting and identifying best practices within initiatives.
Zimmerman has a wealth of experience developing, designing, and leading nonprofit and philanthropic grant and evaluation programs. She has worked with many of the region's most-respected non-profit organizations to lead professional development programs, enhance strategic funding and implement grant evaluations.
Zimmerman earned a Bachelor of Arts in social work and public administration from Miami University and a Master of Social Work with a concentration in Social and Economic Development from the George Warren Brown School of Social Work at Washington University.