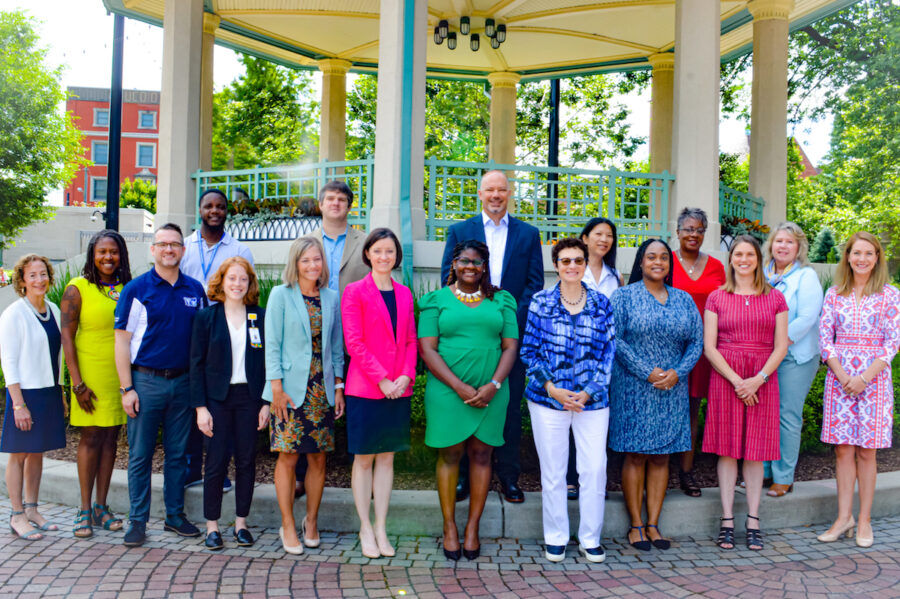 Pandemic prompts rise in social needs that drive health outcomes
bi3, Bethesda Inc.'s grants initiative to transform health, announced it is awarding $700,000 to 16 local nonprofit organizations and TriHealth programs addressing the health and health-related social needs of those disproportionately affected by the COVID-19 pandemic. Grantees include:
Bethesda North Center for Abuse and Rape Emergency (CARES) Program
Center for Closing the Health Gap
Cradle Cincinnati's Queens Village
Every Child Succeeds
First Step Home
Freestore Foodbank
Good Samaritan Free Health Center
Health Care Access Now
Legal Aid of Greater Cincinnati
St. Vincent de Paul Charitable Pharmacy
Strategies to End Homelessness
Sweet Cheeks Diaper Bank
TriHealth's Helping Opiate-addicted Pregnant women Evolve (HOPE)
TriHealth's NICU Follow Up Clinics
YWCA of Greater Cincinnati
Women Helping Women
"While pandemic restrictions may be winding down, social needs continue to grow with serious implications for health outcomes," said Jill Miller, President & CEO of Bethesda Inc. "bi3 pivoted this year by actively listening to local nonprofits and quickly responding to meet urgent community needs and help those disproportionately impacted by COVID-19.  By working together, I believe we can address health disparities and work towards a day when every Cincinnatian, regardless of where they live, has equal opportunity to achieve their highest level of health and well-being. Let's get to work!"
This series of community grants follows $1.59 million that bi3 awarded in December 2020 to 37 area nonprofit organizations. Those grants were investments in technology, tools, and training to increase community access by providing remote health and social services. As a result, these organizations have increased the number of clients they serve and are now better positioned for the future. 
Since 2010, bi3 has awarded $56.6 million in grants to TriHealth and community-based organizations. bi3 funding typically fuels long-term systems and culture change to transform health and healthcare. With this round of funding, bi3 is responding to address immediate community needs that continue to arise because of the pandemic.
GRANTS SUMMARY
Addressing Health Disparities:
$50,000 to the Center for Closing the Health Gap to continue and expand the "We Must Save Us" campaign, which provides fact-based information to educate and activate underserved communities on the benefits of receiving the COVID-19 vaccine. The Center aims to increase COVID-19 vaccinations among African Americans and Hispanics in Hamilton and Butler counties. Interact for Health is co-funding this initiative.  
$50,000 to Good Samaritan Free Health Center to provide primary healthcare and other specialty care (such as dental and behavioral) to uninsured, low-income patients.  Patients of the Free Health Center are disproportionately at risk for chronic diseases like diabetes and hypertension.
$50,000 to Health Care Access Now to partner with All-In Cincinnati to place community health workers in nontraditional settings, such as the Justice Center or Housing Authority. The health workers will provide vaccine education and help individuals gain access to resources and services that address the social barriers heightened by the pandemic.  Interact for Health is co-funding this initiative.  
$50,000 to St. Vincent De Paul Charitable Pharmacy to provide free prescription medications and medication management to low-income residents of Hamilton County. In the last year, St. Vincent De Paul (SVDP) more than doubled the number of individuals served. SVDP continues to partner with the Good Samaritan Free Health Center to support patients' medication needs and tobacco cessation programs.
Maternal and Infant Health:
$25,000 to Cradle Cincinnati's Queens Village to support neighborhood-based outreach and empowerment opportunities for Black women to address racial disparities in birth outcomes and the conditions that drive inequality in maternal and infant health.  Queens Village offers health and wellness activities and supports Cradle Cincinnati's outreach in the community.
$50,000 to Every Child Succeeds to provide evidence-based home visitation and case management services to low-income pregnant women and new parents to ensure healthy births and optimal child health and development. Every Child Succeeds recently expanded support for new Americans and the Hispanic community.
$50,000 to First Step Home to provide substance use treatment to women and therapeutic services to their children while they live together in a safe and supportive environment.  First Step Home's Maternal Addiction Program helps pregnant women or those with young infants. They also provide additional services to ensure babies' health.  First Step Home works closely with TriHealth's HOPE Program.
$25,000 to TriHealth's Helping Opiate-addicted Pregnant women Evolve (HOPE) and NICU Follow Up Clinics to provide emergency assistance to pregnant and postpartum women in crisis. The HOPE and NICU clinics offer case management and wrap-around services to ensure healthy maternal and birth outcomes.
$25,000 to Sweet Cheeks Diaper Bank, Cincinnati's only nonprofit diaper bank, to alleviate financial stress on families and ensure the health and well-being of babies. Sweet Cheeks partners with local organizations such as TriHealth's Perinatal Program, Cradle Cincinnati, First Step Home, Urban League, and others to provide diapers for families in need. One in three families in the region cannot afford diapers, and the demand has only increased through the pandemic.
Housing Stability:
$50,000 to Legal Aid of Greater Cincinnati to provide legal advocacy for low-income individuals facing eviction, domestic violence, loss of benefits, and other legal challenges. Legal Aid partners with the TriHealth OBGYN Center to support patients in addressing health-harming legal needs that negatively impact birth outcomes.
$50,000 to Strategies to End Homelessness, a partner of Cradle Cincinnati, to support the Shelter Diversion Program that helps families avoid entering emergency shelters or becoming homeless. The Shelter Diversion Program is a nationally recognized best practice that is highly cost-efficient and delivers positive outcomes. Having safe and stable housing helps ensure the health and well-being of all family members and prevents the trauma of homelessness.
Domestic Violence:
$25,000 to the Bethesda North Center for Abuse and Rape Emergency (CARES) Program to serve survivors of sexual assault, elder abuse, and domestic violence. Specially trained nurses document the abuse and connect patients to counselors and social services agencies, such as Women Helping Women, for additional support.
$150,000 ($75,000 each) to the YWCA of Greater Cincinnati and Women Helping Women to support intervention services, shelter, and housing for survivors of domestic violence.  bi3's partner, Legal Aid of Greater Cincinnati, has confirmed that social isolation and financial stress have exacerbated the prevalence and severity of domestic violence.  Sheltering women and children experiencing domestic violence has been challenging as congregate shelters had to be closed, and residents had to be moved to new facilities to support social distancing, adding significant expense.
Food Access:
$50,000 to Freestore Foodbank to provide nutritious food and support services to low-income individuals and families. Freestore Foodbank partners with faith-based organizations, nonprofits, neighborhood food pantries, health clinics, and others to ensure community access.